SANDY DELUCA--ARTIST & AUTHOR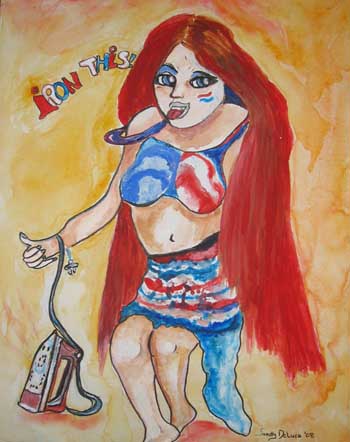 NEW WORK
NEW ABSTRACT PAINTINGS
NEW DRAWINGS & STUDIES
PUBLICATIONS
LINKS

IRON THIS!--Watercolor on canvas sheet--18 x 24 inches(Above-$400.00 plus shipping)
My belief is that true art causes people to think. It resonates. People discuss it long after viewing a painting or reading a book. Good or bad--if art causes a reaction--then the artist has done his or her job.
Some of my art is inspired from my writings as I am a published novelist, poet and short story writer. At times my visual art and writings appear together. My novel DESCENT was published by a publishing house called Delirium books in 2005. It was a limited run of 100 copies which quickly sold out. Each book has an original pen and ink drawing bound within. I painted the cover art for my novel SETTLING IN NAZARETH. And I did the art (cover and interiors) for my Bram Stoker nominated poetry book BURIAL PLOT IN SAGITTARIUS. Through the years my art and writing has appeared side by side;once in a gallery show at a local college as well in publications. I've written numerous short stories and poems which have seen publication.
I recently underwent a life altering experence which had a transformational effect on my work. I experimented with various styles and mediums over the past year and as of late the influence of "Big Eye Art" is evident in my visual work. Artists such as Jasmine Becket-Griffith, Blonde Blythe, Misha and Sas Christian have caught my attention. The eyes truly tell a story--and I have many to tell. I'm also a political junkie and am very affected by women's issues. Thus, my work is a culmination of many influences. I will be adding my new pieces here gradually. Despite my current fascination with pop culture, I remain heavily influenced by expressionists such as Max Beckmann, Kirschner and Chagall.
My fiction is normally dark and speckled with supernatural elements. My novel MANHATTAN GRIMOIRE will be released shortly from DELIRIUM books In December 2008. In addtion, my novel FROM ASHES is completed. I'll post some great news about it shortly. Now I'm moving on to a new novel.
NOTE: This site is under construction so please stop by for updates.